Adoption Support Centre of Saskatchewan Announces Youth Speak Out Event
12-Feb-2018 - Saskatoon SK
Youth Speak Out is an exciting opportunity for youth (between the ages of 14-26) to be involved in a conversation on the importance of permanency for children/youth in care and having their voices be heard in seeking systemic changes in the child welfare system.
Youth Speak Out
Permanency is a protective factor for children and youth. The attachment, stability and safety that flow from a family and the social support of at least one positive adult relationship reduce the likelihood of social and economic exclusion for our most vulnerable population.
Aging out is a significant risk factor for dropping out of school, homelessness, unemployment, poverty, reliance on social assistance, contact with the criminal justice system, mental illness, and poor health outcomes.
Youth Speak Out will provide youth with training necessary to become supportive members of a growing national voice that aims to create urgency around permanency. It will also provide youth with avenues to engage in advocating for systemic changes that will ultimately benefit children and youth.
Youth Speak Out Team Development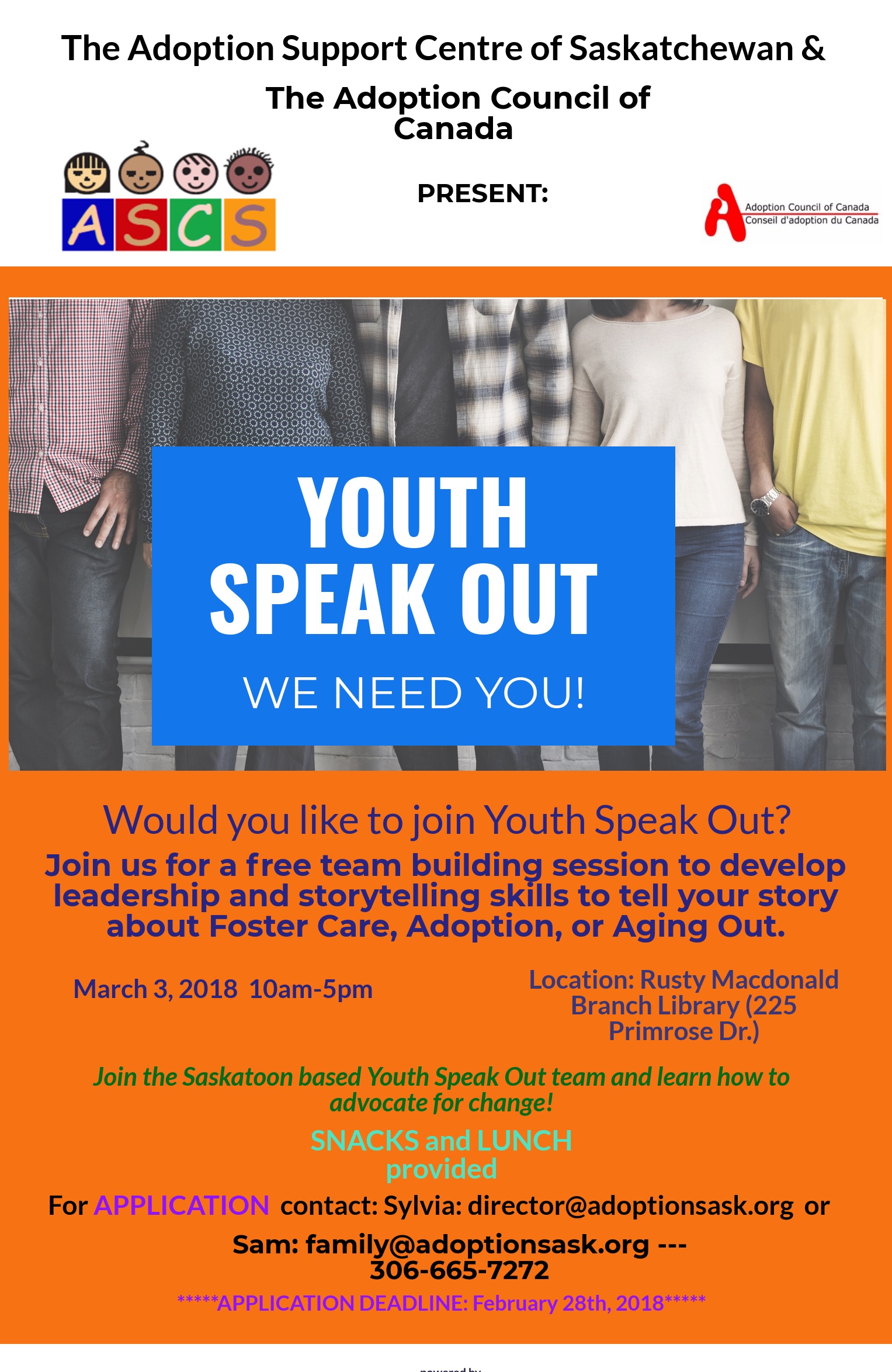 ASCS will be hosting a one day Youth Speak Out team development session.
In order to join Youth Speak Out, potential team members must fill out an application form. If selected applicants must attend the team development session, which will be held in March 2018 ( March 3 / 10am to 5pm is set). Applicants must be between the ages of 14-26.
Applicants must also commit to a future training workshop as well as agree to participate in monthly meetings and panel presentations. The key purpose of Youth Speak Out is advocacy.
Youth are not required to have a particular skill set prior to joining Youth Speak Out. A desire to learn and a willingness to try are essential! Youth will be provided with necessary training to participate in Youth Speak Out events.
Application forms can be found at www.adoptionsask.org.
A brief intake interview will be conducted.
CALL US TODAY! ASCS 306-665-7272.